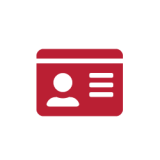 Student cards
Are used to prove student status and also to receive student discount benefits within Czech Republic and abroad.

I can upload an electronic wallet to the student card, and use it to access some classrooms or for attendance within lectures.
To obtain a student card, I must go to the Card Center, which is located in the CZU Library in rooms No. 236 and No. 206. I will take my identity card with me and I must have a photograph of myself uploaded within the university information system beforehand, which is necessary for issuing the card.
I can always find the current information on the Card Center website.
ISIC card
Card for full-time students allows you to take advantage of a number of discounts and benefits in the country and abroad. ISIC is the only globally recognized document proving student status
Price is CZK 300 / 12,30 € and annual license renewal is CZK 200 / 8,20 €.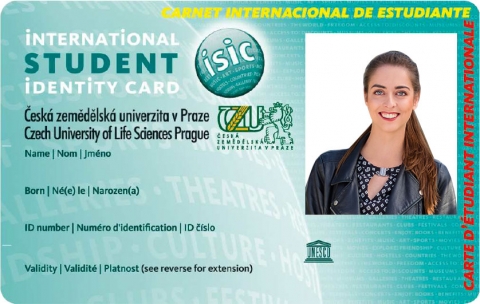 ALIVE card
The card is intended for students of combined studies. More limited drawing of benefits compared to the ISIC card.
Price is CZK 300 / 12,3 € and annual license renewal is CZK 200 / 6,60 €.
ID card
Card for students who decide to draw discounts only on the CZU campus and not extended discounts on travel, admission (cinemas, ski resorts), insurance and the like.
Price is one-time CZK 100 /3,66 €.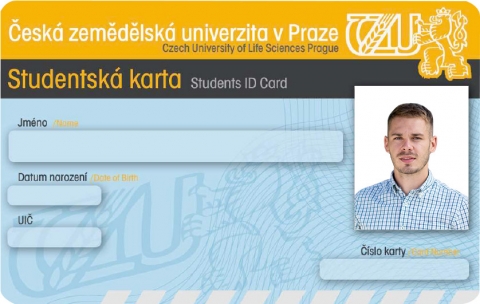 | ISIC | Alive | ID card |
| --- | --- | --- |
| Full-time study | Combined studies | Full-time and combined |
| + maximum amount of discounts | + large amount of discounts | + purchase price |
| - yearly renewal | - yearly renewal | - discounts only at CZU campus |
University electronic wallet (UEW)
UEW (in Czech UEP) is designed for CZU students and employees. It enables cashless payment using ID for goods and services offered and provided by the university and contractual partners operating on the CZU campus. I will activate it by uploading a sum of money at the cash desk of the CZU Library, and only after receiving the student card. When acquiring UEW, I will pay a refundable deposit of CZK 300. I can recharge UEW again by using a debit card or cash at any of the recharging kiosks around the university campus. The current list of kiosks and the procedure for cashless recharging can be found on the DICT website in the University Electronic Wallet (UEW) section, specifically the UEW – FAQ.
The CZU Library Cash desk is open on weekdays from 9:00 to 12:00 and from 13:00 to 15:00.
Use of UEW (UEP)
Payments in the cafeteria,
payments at buffets and restaurants at CZU,
various tuition fees,
payments for printing and library services,
payments in vending machines,
registration in the National Library of Technology.
In the canteen and most restaurants within the CZU campus, I will always find 2 prices on the menus. If I have UEW activated, I pay a lower price.
UEW also provides the right to a subsidy of up to 3 main meals in the Canteen for a full-time student. For the Foodpoint network, the recognized subsidy is up to CZK 36 per day.
If I have a student card and activated UEW, I pay the subsidized price. I can also come to the canteen without a student card, but I will pay the full price. And either in cash or by bank card.
To get the so-called FoodPoint discounts, I will find a kiosk (most of them are in the Canteen on the ground floor) and after attaching my card, I click on Discounts - FoodPoint. I have to activate this discount every month. However, whether the restaurant will provide a discount is entirely up to them. The discount is not always automatic, at some establishments I have to ask for a discount in order to receive one.