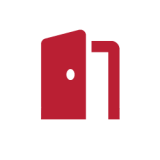 Classrooms
All of the commonly used classrooms can be found on the CZU campus.
Each classroom has a specific designation consisting of a letter and a number. The letter indicates part of the building. The first digit then indicates the above-ground floor in which the room is located. If a Roman numeral (II, III, V, etc.) is used after the letter, it is an auditorium.
Example: Classroom C21 is located inside of building C, on the second floor. Classroom E315 is located inside of building E, on the third floor. Classroom D126 is located inside of building D, on the ground floor.
If I am currently on the FEM premises, and I need to quickly find a specific classroom or teachers office, I will use an information kiosk with an interactive screen located on the ground floor of the CEMS atrium (i.e. opposite of the main entrance to building C).