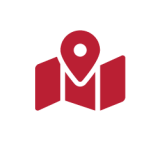 Campus
The university campus creates something only a few universities in the Czech Republic can, and that is a comprehensive campus which offers everything I will need during my study.
Within the university campus I will find accommodation, a rich offer of catering facilities, sports activities, as well as spaces for self-study and relaxation. I have at my disposal not only modern teaching and research facilities such as lecture rooms, laboratories, seminar rooms, but also greenhouses meant for teaching, experimental and demonstration stables, a brewery, a pleasant park, and a library.
Transport to the CZU campus
The CZU campus is easily accessible by Prague's public transport. From Vítězné náměstí I will take a bus (line 107 or 147) from the bus stop, that is a short walk from the Dejvická metro station. At peak times, the connection runs to Suchdol after two-minute intervals. From the Zemědělská univerzita stop, I can easily get to the CZU campus on foot via the nearest crossroad and, according to the navigation board, walk to the Faculty of Business and Economics building.
If I choose to drive to school, I can use a relatively spacious student parking lot right on the university campus. I can also use the Carsharing service to get to the University.